Project Conference 2014 Wrap Up
By Alex
It's been a little over a week since the Project Conference in Anaheim finished up and what a conference it was. It's always great to meet up with the Project Community and catch up on what's happening, it's also the only place I know that you can wax lyrical about Project Server without people looking at you as if you're strange
Anyway, I thought I would share some of the highlights with you.
First up the keynote, there were some great demonstrations, announcements and in a first reveals about future directions and investments for Project. A key announcement was the introduction of the new Project Lite SKU for Project Online, a $7 a month licence of Project Online targeted at users who don't need all the capabilities of Project Online, but do need to complete timesheets, update tasks, view schedules and interact with collaboration sites. The Project Lite SKU will be available from the 1st May 2014.
The other big announcement in the keynote was a new SQL Server Integration Services (SSIS) connector which can consume oData feeds (as provided by Project Online), the SSIS package can then write out to a database hosted in Windows Azure that you can then use SQL Server Reporting Services (SSRS) to create enterprise reports.
Microsoft are pushing apps in a big way and there are some great apps out there, it was great to see the Publish All Enterprise Projects app in the keynote (click here to learn more) followed shortly afterwards by a pretty deep demo of Nintex Workflow for Office 365, one of the products I am responsible for in my non project day job at Nintex
(thanks Jakob for the better picture).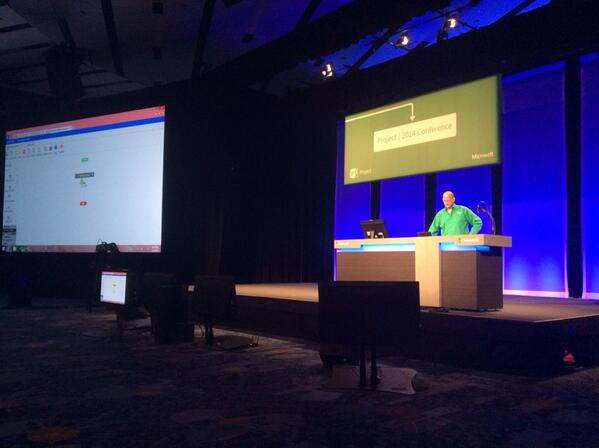 The sessions at the conference were great, with a diverse range of speakers from customers, partners and the engineering team. I personally enjoyed a few of the workflow sessions and was excited to see so many people getting on board with Demand Management in 2013. It was also great putting faces to names, and of course catching up with old friends and fellow Project MVP's from around the world.
I was lucky enough to present a session on behalf of Nintex on how our products could be used to implement organisational process. The session went really well with a great turn out, some good questions and all five demo's workflow flawlessly.
For those of you that came along to the session, thank you, as a final reminder, all the links from the session can be seen at http://bit.ly/nintexpc14. I have a couple of videos of the demo's I showed that I will push up in the next couple of weeks.
All in all it was a great conference, lots of information, lots of networking, lots of preparation and whilst there, lots and lots of work. Thanks to everyone at Microsoft and Dynamic Events that put the whole thing together